[
Home
]
[
Railway Electrical Packages
]
[
Railway Air Conditioning
]
[
Custom Controls for Railways
]
The NW-25200 Electrical Locker Package
From Northwest Rail Electric
Phone: (503) 231-4808, Fax: (503) 230-0572, E-mail

See where our equipment is located on a typical railway passenger car
---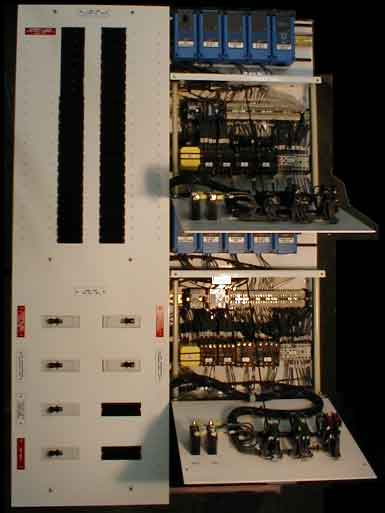 The NW-25200 passenger car electrical package is designed to be a reasonably simple, yet complete, power control center for use on dome cars and other cars with a simple electrical demand and a need for two zones of heating/air conditioning control.
The features of the NW-25200:
Amtrak and transit compliant HEP Main Breaker for 480 volt power coming from the head-end power system.
Five 480 volt, three phase circuit breaker positions (six including the HEP main breaker).
Three-phase power monitor equipped on older units and can still be supplied of desired, but in most recent systems this has been moved to the air conditioning condenser as that is the most critical piece of equipment to protect from incorrect phase rotation.
Forty-Two 120 volt, single phase circuit breaker positions, which may be combined into 208 volt single phase or 208 volt three phase circuits.
HVAC Control Panels are the same as used on the NW-25100 package. This provides ease of use and conformity in appearance with single-level cars that use that Northwest Rail Electric control package.
Control for four HVAC stages in each zone:

Air conditioning and heat capacity staging may be adjusted to suit the needs and system desired. For example, several stages of heat and a single stage of air conditioning. Dehumidification and separate baseboard heat control may also be added.
Short-Cycle Timer to prevent Air Conditioning Compressor Overheating.
Various configurations may be built to custom order.
Blower speed increases during air conditioning stage to prevent coil freezing. A single speed blower option is available as well.
Current Temperature and Set Point Temperature Display
Switches and indicator lights provide easy selection of control functions and show system status.

24 volt control voltage circuit breaker
Two Emergency lighting circuit breakers and relays provided for automatic operating of emergency lighting system. There is one zone of emergency lighting for each control panel.
Custom-made engraved plastic circuit breaker labels may be made to order for whatever electrical loads are in the car, and installed on the panel before the system is sent.
480 volt to 24 volt transformer supplies all low voltage electrical equipment on the NW25-200. This transformer may be either built in to the panel or come as a separate supply with a plug connector, as required by space constraints.
All panel covers are powder coated (not painted) to provide a high-quality, long-lasting finish.
Hinged cover over control components provided with strap to allow for in-place hands-free service.
---
[
Custom Controls for Railways
]
[
Railway Electrical Packages
]
[
HEP Connectors
]
[
Parts for Amtrak HEP
]
[
Generators for HEP
]
[
HEP Wayside Power
]
[
Railway Heating and Air Conditioning
]
[
Home
]
[
List of Products and Services
]
[ e-mail ]